A minimalist kitchen is easy to clean and maintain. It looks chic and in tune with modern interior décor. Minimalism helps to relieve the clutters of a small home as well as a spacious one. The following minimalist kitchens will provide you excellent ideas to deck up your kitchen in style.
Spectacular minimalist kitchen design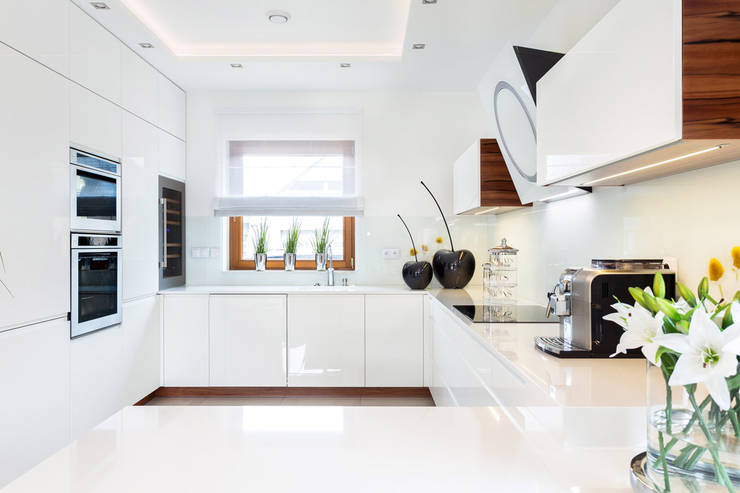 This adorable small kitchen is not only a very stylish space to spend time in, but also a very functional one. See how well the kitchen planner has planned the layout of the kitchen which maintains a triangle between the kitchen sink, oven and refrigerator.
Minimalist galley kitchen
GESTION INTEGRAL DE PROYECTOS DEL NOROESTE S.L.
This minimalist galley kitchen design is an excellent choice for those spaces that are narrow and long. It is decorated with a combination of built in cabinets, walls covered with ceramic tiles and wooden worktop and dining table. It is well lit to ensure a safe working environment.
Efficient kitchen design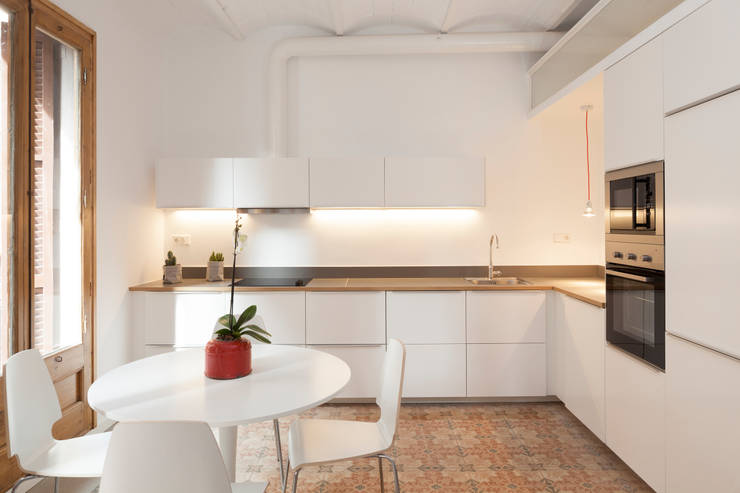 The efficient design of this kitchen makes every day work a pleasurable experience. It is decorated inside a classically designed building. But the interior is decorated in a modish contemporary fashion. Tiled flooring with a patchwork design injects a bit of colour in an otherwise white space.
Use of texture in modern kitchen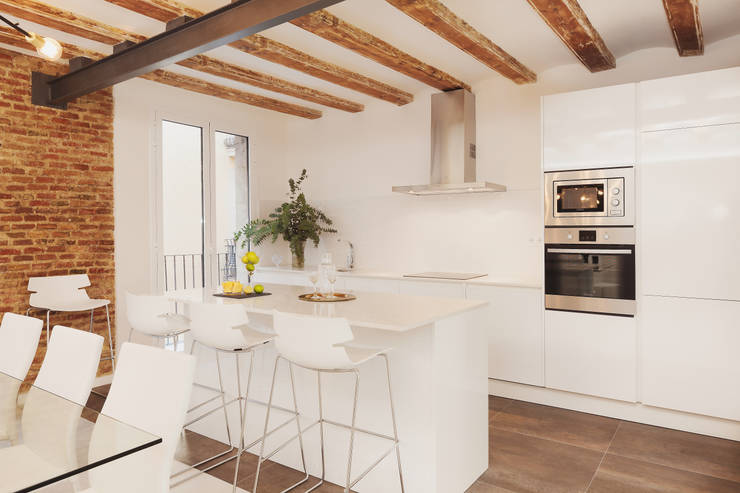 This otherwise minimally decorated kitchen has received a stunning makeover, thanks largely to the exposed brick walls and wooden beams. It is decorated with trendy bar stools. Built in cabinets keep the interior clean and manageable.
Kitchen with a great view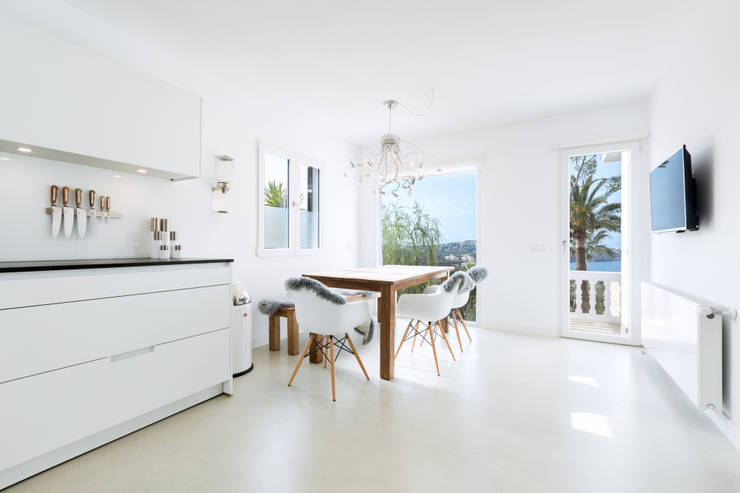 It is not necessary for the kitchens to have a great view. But if you house is located on beautiful spot take advantage of the same. Install large windows not only to allow a panoramic view of the surroundings but also to let sunlight in the room. It will look all the more cheerful.
Contemporary kitchen décor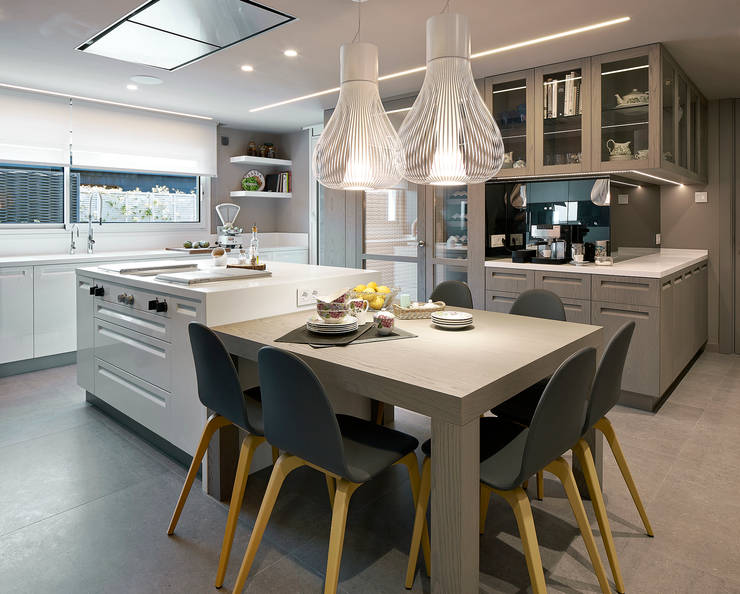 The contemporary style of this kitchen makes it look so effortlessly stylish. The colour scheme with a pronounced use of white and grey shades makes the interior look spacious. Natural wood flooring induces warmth in the ambience.
Tiny kitchen with a stellar design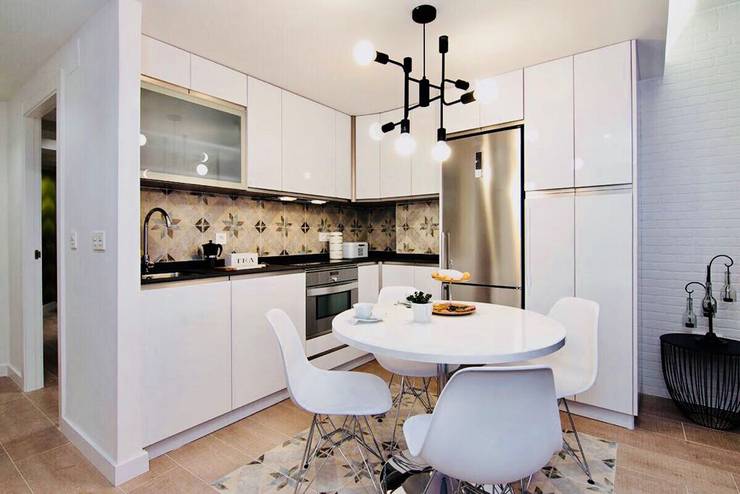 If you are anguished about the smallness of the room, have a look at this tiny kitchen. The designer has made the best use of every square inch of space. Floor to ceiling cabinets help to optimise the storage. Tiled flooring and backsplash add some variation. Consider investing in a chic lighting fixture like the one installed in the dining area.
Kitchen island design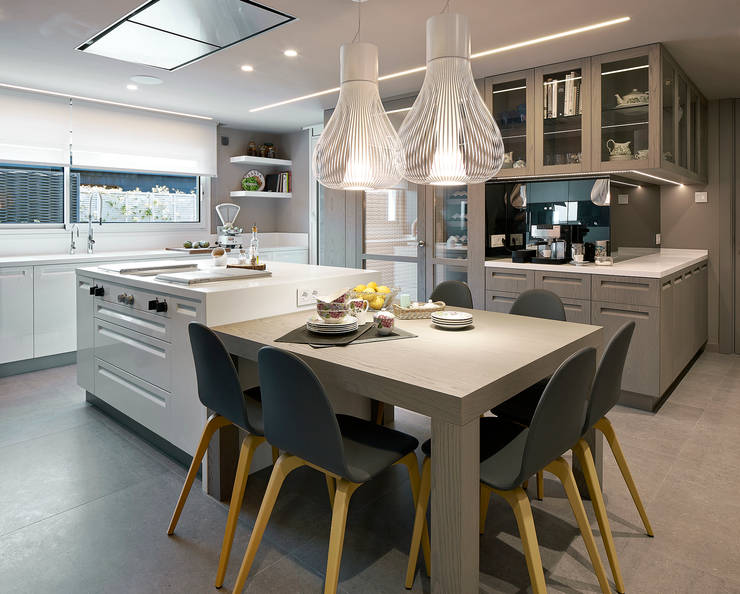 This prominently decorated kitchen boasts of a stylish kitchen island. It acts as a workspace. A small dining table along with sleek chairs has been set just beside the island. Cabinets with glass doors also augment the beauty of the space.
U-shaped kitchen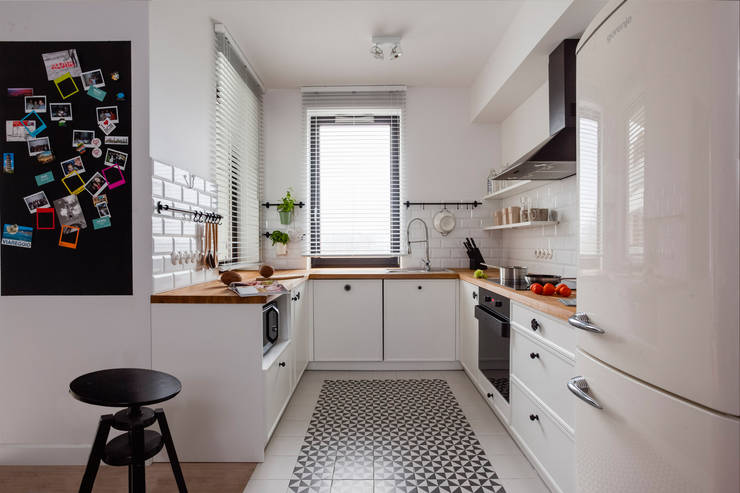 U-shaped kitchen is considered to be a very useful layout. This U-shaped kitchen is designed in a small space. Glass windows help to inundate the space with natural light. A combination of tiled flooring and wall décor give it a very pleasing appearance.
Kitchen design for small apartments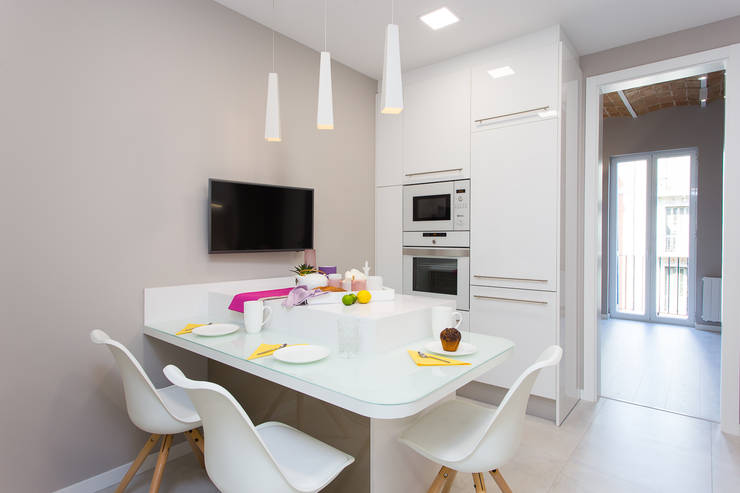 This design of this minimalist kitchen is ideal for small apartments. It occupies a corner of the open plan living room cum dining area. A combination of white and pale brownish grey shade has been used to give it a clean and contemporary look. Beautiful pendant lighting fixtures immediately draw attention of those who come to visit this small apartment.
Modern and comfortable kitchen interior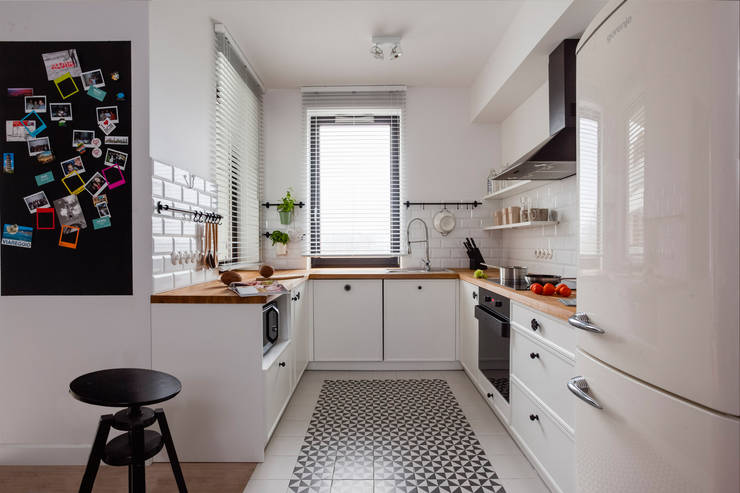 The modern design of this kitchen looks chic enough. The spacious wooden kitchen island is one of its biggest assets. It partly works as a kitchen table and partly a dining table. Built in cabinets in the island help to keep various kitchen items neatly organised.
White and breezy kitchen interior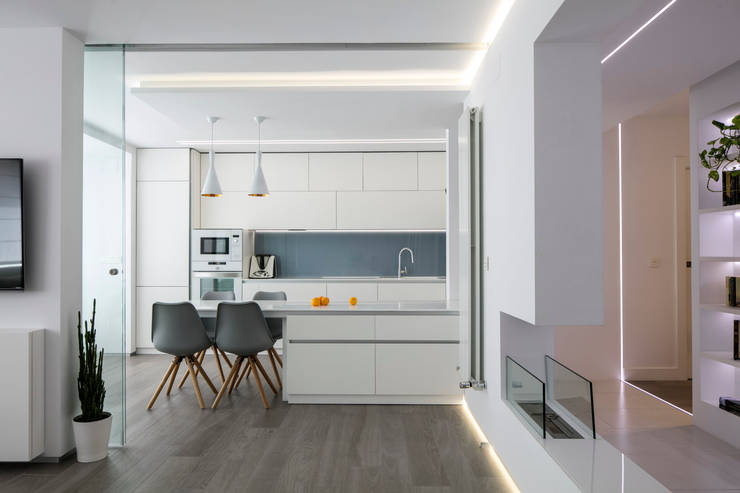 You may already have noticed that white is a favourite colour for modern kitchens. This small kitchen, decorated in a contemporary fashion, is located on the other side of sliding glass doors. This along with the availability of sunlight makes it look breezy and beautiful.
Simplicity attracts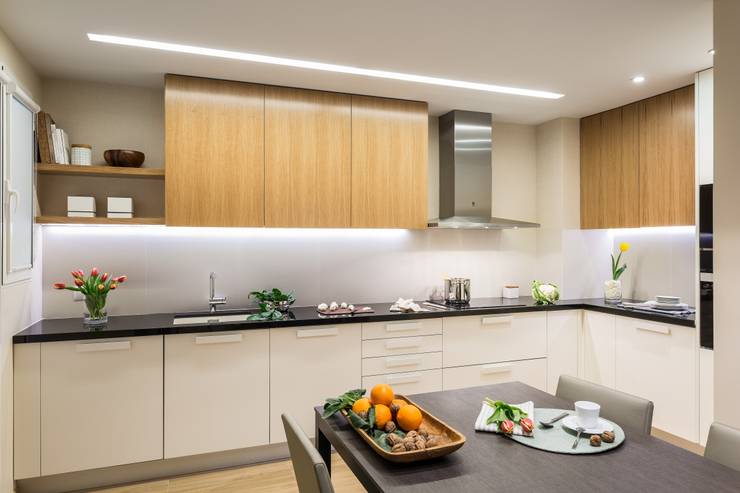 LAURA YERPES ESTUDIO DE INTERIORISMO
If you are planning to design a kitchen on budget then this kitchen interior will provide you with all of inspirations. Laminated kitchen cabinets, wall mounted shelving system, clean and simple worktop and sufficient LED lighting fixtures ensures the space remains comfortable to work in at all possible hours.
Recipe for elegant kitchen design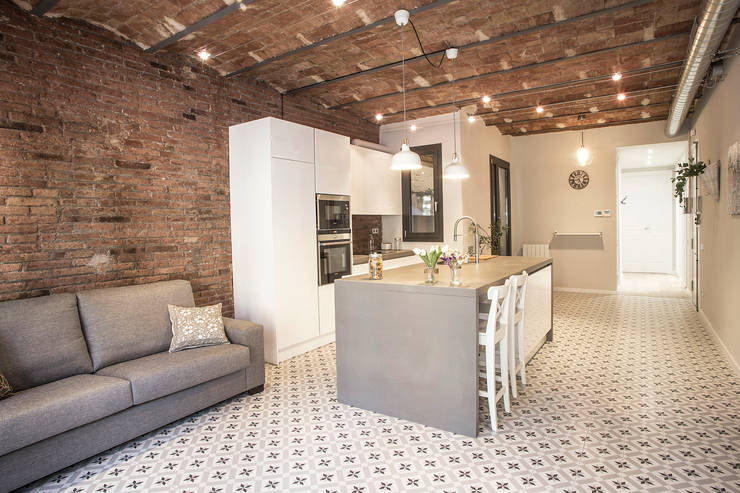 The design of this kitchen will provide you the right recipe for elegant kitchen interior. It is located in the middle of an open plan room. A spacious kitchen island and simple wall mounted cabinets are its biggest assets. Tiles flooring and exposed brick walls and ceiling help to beautify the space almost effortlessly.
Sparkling kitchen interior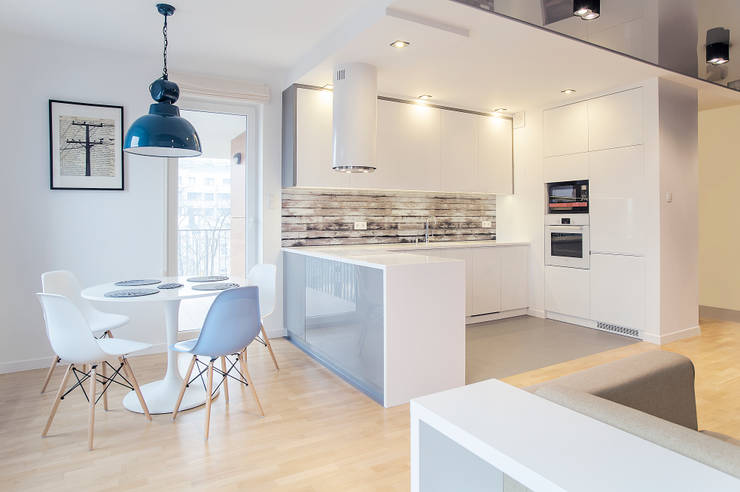 The sparkling interior of this kitchen is infused with the charm of Scandinavian design. The otherwise all white space is accented with grey and pale blue shapes. Shiny cabinet walls increase the glitter of the interior.
Learn these simple recipes to make your home look spectacular.
Check out these outdoor dining areas perfect for small spaces.